For almost 30 years, Inside Out Youth Services Has Empowered, Educated And Advocated For Lesbian, Bisexual, Transgender, Gay, Intersex, And Questioning (LGBTIQ) Youth In The Pikes Peak Region.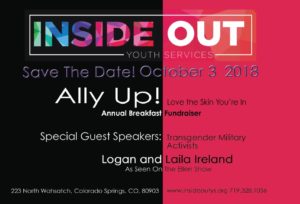 Ally Up! Love the Skin You're in Breakfast Fundraiser
Featuring Keynote Speakers: Logan and Laila Ireland as seen on Ellen
The Antlers, a Wyndham Hotel - Wednesday, October 3, 2018 | 7am
We would be honored if you joined us on October 3rd 2018 from 7:30 am to 8:30 am at the Antlers Wyndham for our annual Ally Up! Fundraising Breakfast! It is our honor and privilege to welcome keynote speakers Logan and Laila Ireland.
Interested in becoming a Table Captain for Ally Up! 2018? Contact Margo at dchandler4236@comcast.net for more info and to sign up!
By sponsoring Inside Out's Ally Up! Love the Skin You're in Breakfast you and your organization are taking a stand to make sure that we can offering life affirming and lifesaving programs for LGBTIQ youth. Your support helps youth who may not yet love the skin they are in, feel loved and supported until they do.
We are looking for sponsors, table captains, and volunteers to make 2018 a bigger and better event.